Last Update: 12. Oct. 2022.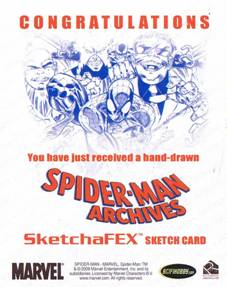 Marvel Masterpieces 2007 - Brian Kong
My big passion for comic books and super heroes has been tremendous since my childhood. "The Amazing Spider-man" was my favorite comic books in my collection. In 2005, out of curiosity, I purchased my first ''Marvel Silver Age 1998'' sealed pack open box from a small comic store, and acquired my first sketchagraph ''Howard the Duck drawn by Gene Colan'' This first lucky card triggered my passion to start, and then improve my small collection and i guess I will continue to do same work in the future. I have collected sketchagraphs, sketch cards and sketchafexes from Fleer Ultra Spider-man 1997, Marvel Silver Age 1998, Marvel Creators Collection 1998, Marvel Legends 2001, Incredible Hulk 2003, The Complete Avengers 2006, Marvel Masterpieces 2007, Marvel Masterpieces 2008, Fantastic Four Archives 2008, X-Men Archives 2009, and Spider-man Archives 2009. These are most of the sets that I was interested in adding to my collection. On this website, you can also find a Trade / Sell gallery with posted cards for trade or sale. Please don't hesitate to send me your offers.

I hope that you will enjoy surfing through the galleries of my collection where you will find various sketch cards drawn by various artists. If you have any suggestions, or comments, please don't hesitate to contact me via email from the ''Contact Me'' box, and I will be more than pleased to read your comments. Also I would like to thanks all the other collectors and sellers who help me in my journey to improve my collection that I am proud to show today to fans, collectors, friends and my family.

A special thanks goes to: Colin Clark, David Lee, Jeramy Bonnelle, Ed Rosamond, Eddie Wong, Ken Gallan,
​ Joe Cifuen, Bhramdeo Bassit, John Hale,
​ from which I acquired many nice sketch cards that are now part of my collection.




Thank you for visiting my Gallery!

''NEW UPDATES''
​
NEW - Fleer Ultra Spider-man 1997: FUSM 97 - Gallery 10 - Misterio - Al Milgrom - [12. OCT. 2022]
NEW - Marvel Silver Age 1998 1997: MSA 98 - 2 - Gallery 11 - Vision - Marie Severin - [12. OCT. 2022]
NEW - Marvel Creators Collection 1998 1997: MCC 98 - 1 - Gallery 09 - Black Cat - Uko K. Smith - [12. OCT. 2022]
NEW - Marvel Creators Collection 1998 1997: MCC 98 - 1 - Gallery 11 - Nightcrawler - Uko K. Smith - [12. OCT. 2022]​​​
NEW - Marvel Creators Collection 1998 1997: MCC 98 - 2 - Gallery 01 - Spider-woman - John Czop - [12. OCT. 2022]​​​​
NEW - Marvel Creators Collection 1998 1997: MCC 98 - 2 - Gallery 12 - Scorpion - Albert O,Clair - [12. OCT. 2022]​​​​​
NEW - Marvel Creators Collection 1998 1997: MCC 98 - 2 - Gallery 17 - Spider-man - W. Martineck - [12. OCT. 2022]​​​​​